Alvarez Tree Service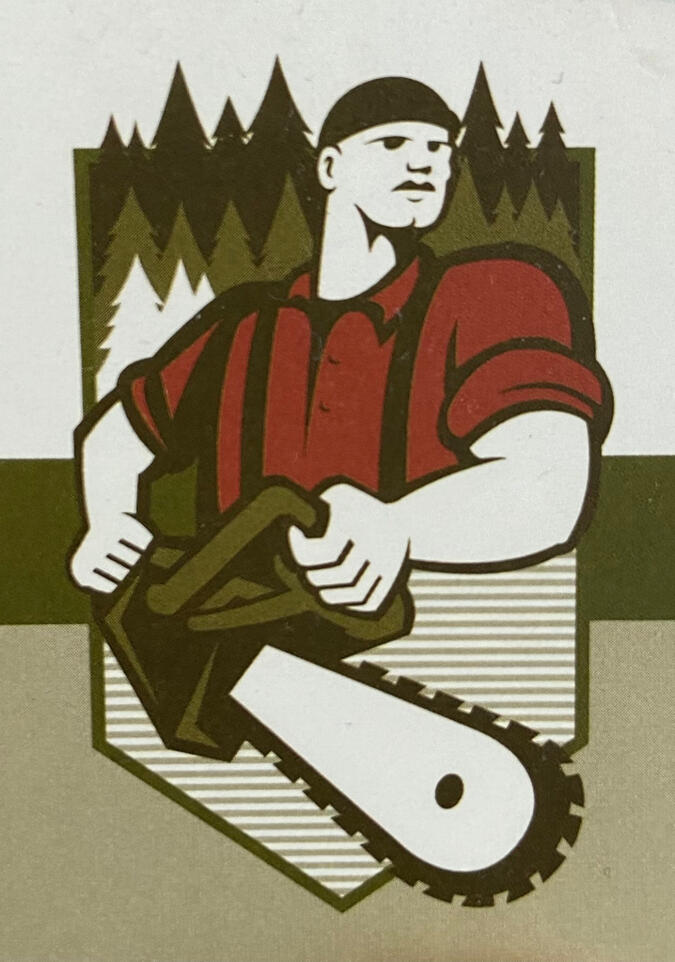 Fort Worth Tree Trimming and Tree Services
We are the premier tree service in Fort Worth and provide the absolute best tree care! Alvarez Tree Service has over 12 years experience in tree trimming, branch removal, tree removal, tree pruning, tree relocation, stump removal, stump grinding, and just about anything tree related! If you need help with a tree in the Fort Worth Area - give us a call or get a quote using the buttons below!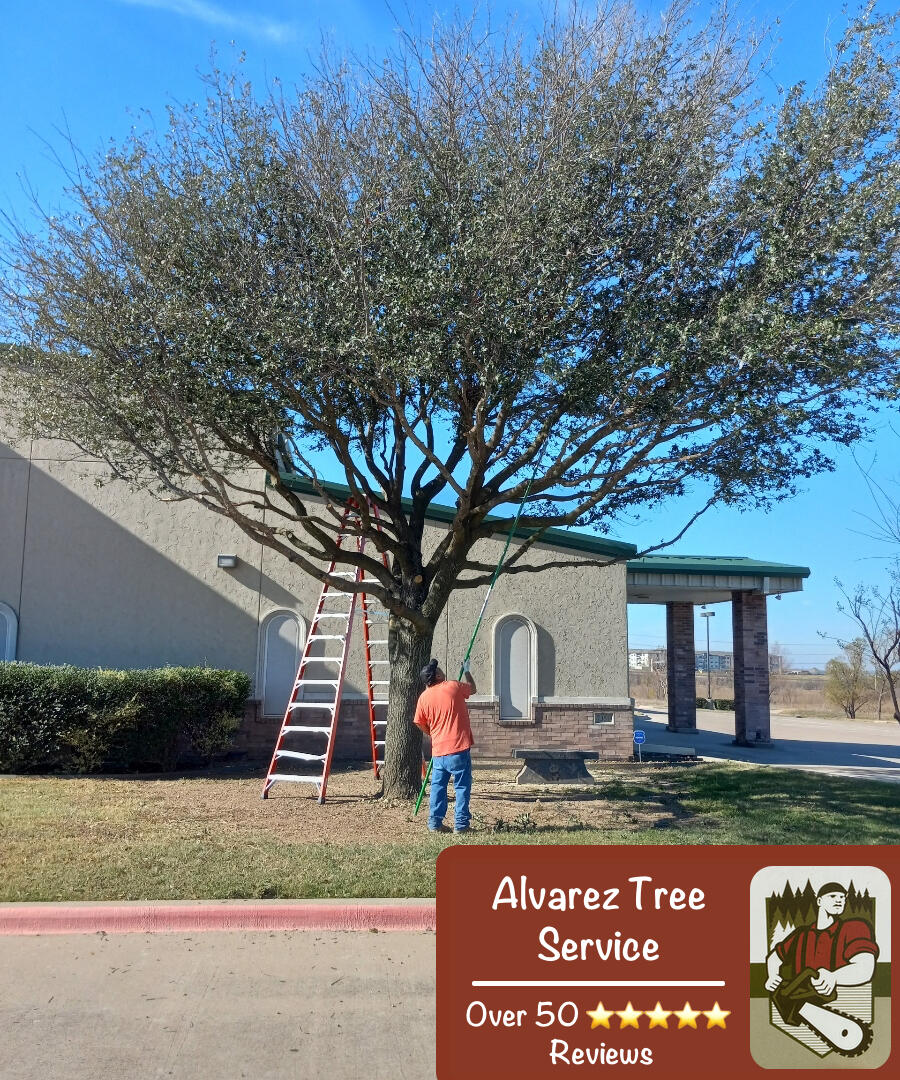 Tree Trimming
Tree Trimming involves trimming branches and limbs to shape the tree, bush, or shrub and improve the aesthetics of the plant and the curb appeal of the property as a whole. Tree Trimming relies on the eyes of the trimmer to accurately shape the plant to what will look the absolute best for your property and achieve your goals as a home owner!
Tree Pruning
Tree Pruning is focused on the health of the tree rather than aesthetics. It primarily involves removing dead, loose, diseased, or low-hanging branches that may be preventing the tree from flourishing or posing a danger to people around the property. Alvarez Tree Service has years of experience to identify what needs to be pruned in order to keep your tree as healthy as can be!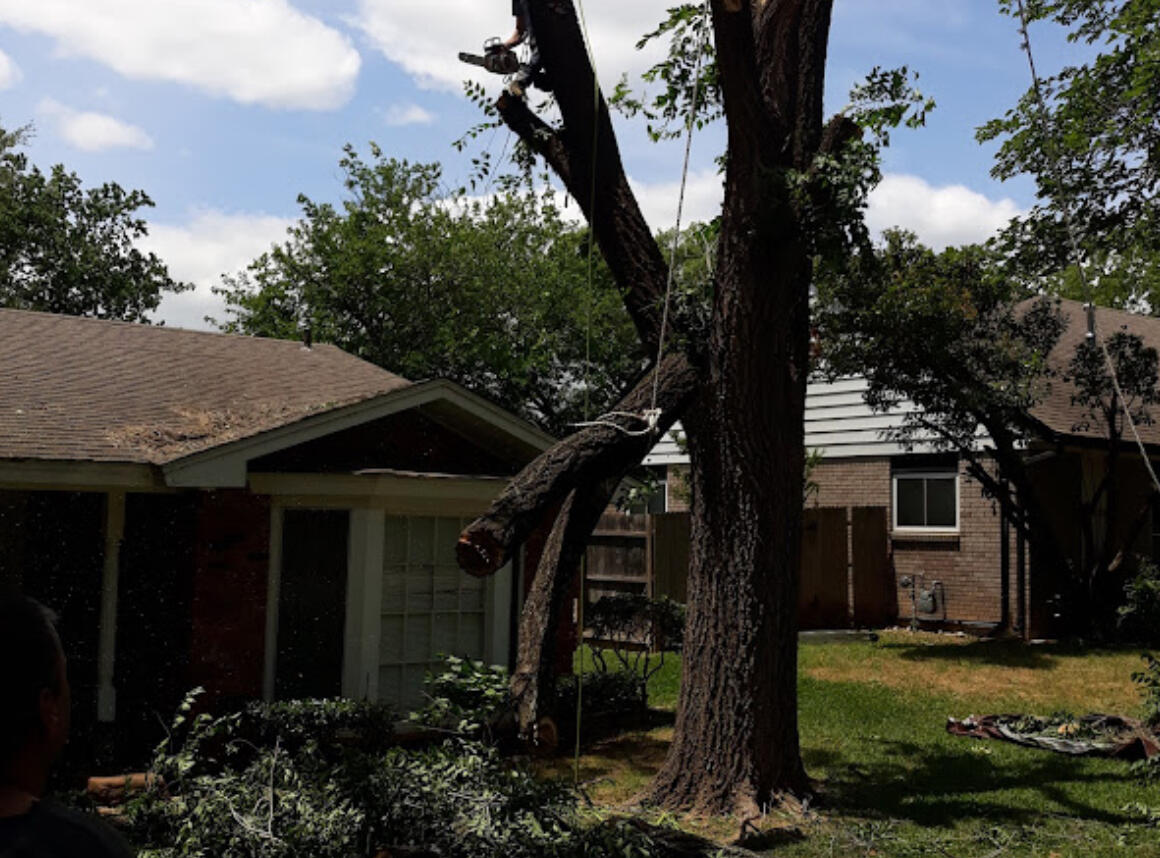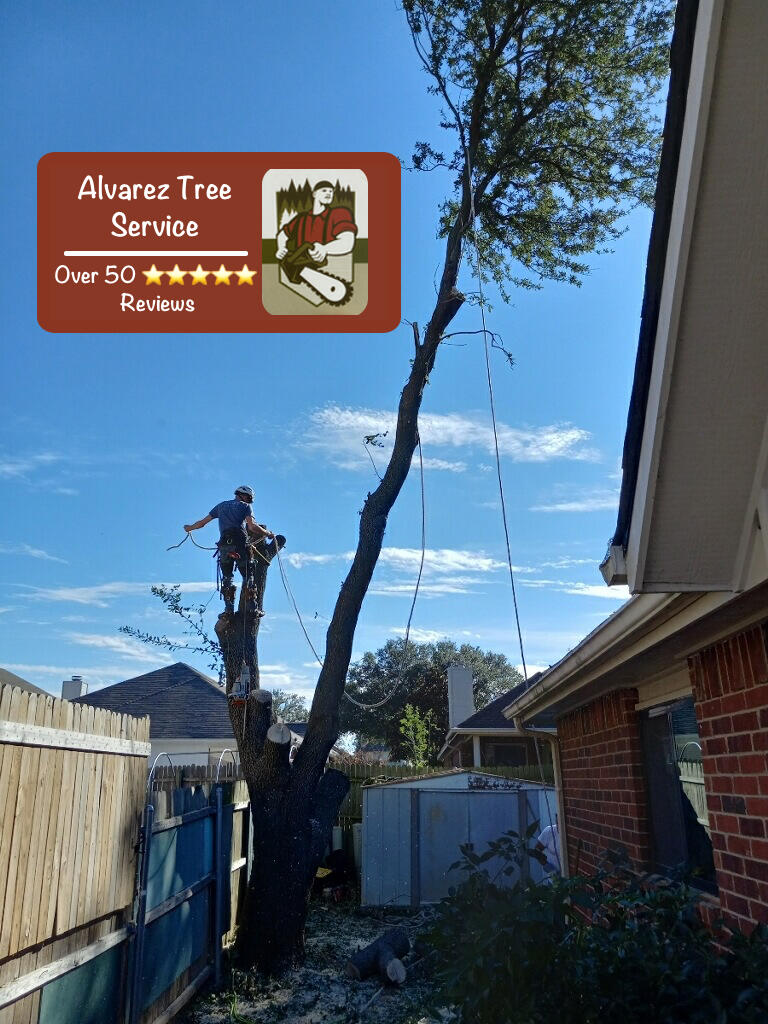 Tree Removal
Tree Removal can be a very complex process that involves removing tall and heavy tree branches and limbs from a height, and often times in residential areas. We can remove any unsightly tree and get it hauled away, without you having to lift a finger! Alvarez Tree Service has the skills, equipment, and training to ensure these delicate jobs are performed safely.
Strump Grinding and Stump Removal
Nobody likes that old tree stump that has been in the yard for years - we can get that taken care for you! We have the tools and skills necessary to grind down and remove old, dead, or previously cut-down trees that left a stump behind. This is a complex process that requires planning and precision, and our years of experience guarantee we will get the stump gone - safely and at a fair price!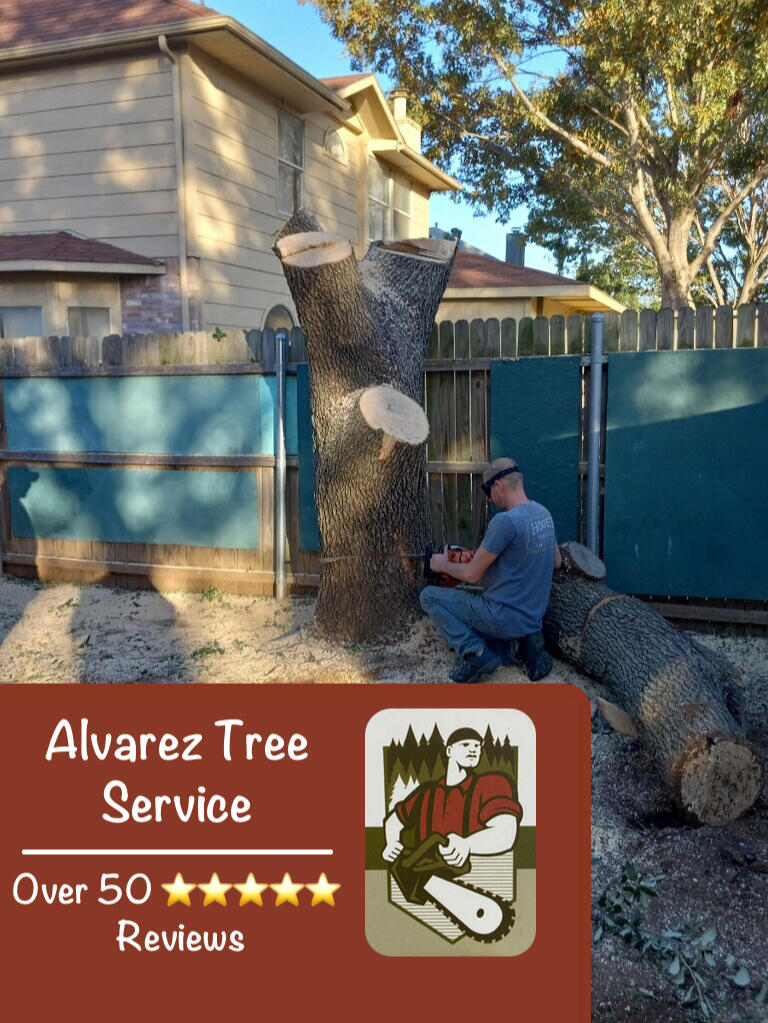 Check out our gallery below to see some of the many happy customers we work with. You may even get some inspiration on what you'd like done for your trees! We can do ANYTHING and EVERYTHING to have your trees taken care of, whether it's tree trimming, pruning, branch removal, tree removal, tree relocation, stump grinding, stump removal, and much more!
Our Values
Value Oriented
Not only are we the most skilled tree service provider in Fort Worth, we strive to be value oriented. We are committed to offer fair prices to our customers that reflect the quality of work we perform. It is our goal to earn your business for years and years to come - we are in this with you for the long haul!
Safety First
We are THE safest Fort Worth Tree Service Provider - we are licensed, insured, and always used the proper safety equipment (i.e. harnesses) to ensure the safety of our team and your property. You can trust Alvarez Tree Service to get the job done efficiently and safely around your property.
5-Star Service
Whether its tree trimming, tree removal, stump grinding, branch removal, tree relocation, or all of the above, Alvarez Tree Service GUARANTEES customer satisfaction. Just check our our reviews - the proof is in the putting. We are the Tree Service Provider for you in Fort Worth and surrounding areas.
Tree Knowledge
When is the Best Time of Year to Trim or Prune Trees?
Generally speaking, the ideal time to trim or prune your trees, shrubs, and bushes is from October to April. This is because the trees are dormant which means that: they are less susceptible to pests and disease, there is less impact on the landscape surrounding the trees, and he trees heal faster - which means they can feel better, sooner! That being said, it is perfectly okay to have your trees trimmed at any time in the year, whether it be for cosmetic reasons or actual dangerous location of the tree and limbs! We recommend giving Alvarez Tree Service a call for a FREE quote if you think you might need a trim.
Why Should I Trim or Prune My Trees? Should I Hire a Professional?
Trimming and Pruning are regular aspects of tree and plant maintenance and Alvarez Tree Care. Proper pruning encourages growth, makes your property look better to the neighbors, and ultimately keeps your tree safe and healthy! Having a properly groomed tree can also benefit the surrounding landscape by ensuring sunlight reaches the right spots and that bird droppings aren't constantly on your roof from low-hanging branches. We highly recommend you hire a professional to ensure the job gets done correctly AND safely. Trees are large and can be dangerous when limbs start coming down.
Open 24 hours a day, 7 days a week.
Phone Number: (682) 206-1113Our area of service includes a 25+ mile radius around Fort Worth. If you are in the DFW area, we can help!
Website Design, SEO, and Marketing Supercharged by Two Dot Media
© Alvarez Tree Service 2022. All rights reserved.